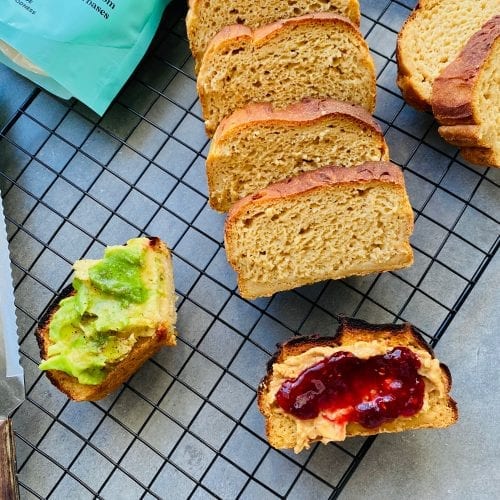 Homemade Gluten-Free Bread
This recipe gives a super soft bread loaf that has a great flavour and very versatile.
Ingredients
2 ½

cups

PomPom Paddock Flour Mix

2 ½

tsp

xanthan gum

1

tbsp

salt

2

tsp

dried yeast

1 ½

tsp

baking powder

1

tbsp

sugar or honey

2

eggs

1

cup

warm water

2

tbsp

olive oil
Instructions
Combine all the dried ingredients into a bow of a mixer and mix well to combine with a paddle attachment.

Combine the wet ingredients then add the dry ingredients and mix well to a smooth batter.

Spoon the batter into 1 large or two small, greased loaf tins and cover with a wet tea towel.

Allow to prove somewhere warm for 1-2 hours, depending on the warmth of the room, until doubled in size.

Preheat an oven to 190C and bake the proved loaves for 25-30 minutes, until golden and cooked through. ALLOW TO COOL FULLY BEFORE SLICING. This is important. Perfect sandwich bread or toast.

The dough can also be used a fresh pizza base. After mixing, spoon some dough onto baking paper and spread out the dough into a 1cm thick base with your hands, using more PPP flour as the dough I quite sticky. Place a baking tray into a preheated 200C oven for 20 minutes then after topping your dough with toppings, transfer the pizza on the baking paper to the tray and cook for 10-12 minutes.