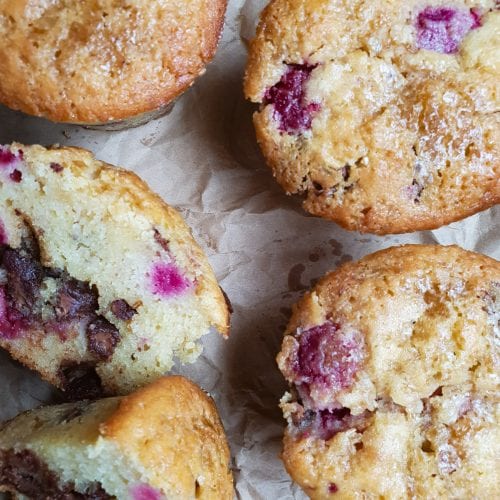 Dark Chocolate and Raspberry Muffins
Ingredients
200

gm

Pompom Paddock Caulflower Flour Mix

1

teaspoons

Baking powder

150

gm

Caster sugar

155

gm

Unsalted butter

240

ml

Buttermilk

2

Eggs

large

115

gm

Dark chocolate

115

gm

Frozen raspberries

30

gm

Demerara sugar
Instructions
Preheat the oven to 180°C

Lightly grease two large 6-hole muffin tins and line with paper cases.

Roughly chop up the chocolate into pieces.

Put the PomPom Paddock Cauliflower Flour Mix into a large mixing bowl along with the caster sugar then sift the baking powder into the bowl, mix well .

Melt the butter on a low heat in a saucepan then remove from the heat. Add the buttermilk to the melted butter.

Use a whisk to mix the eggs into the butter, creating a buttermilk mix.

Pour the wet mix into the dry mix and use the whisk gently to mix together until there are no lumps of flour.

Add the chopped chocolate and frozen raspberries and use a large spoon to gently fold into the mix.

Spoon the mix into the prepared muffin tins.

Sprinkle the Demerara sugar over the top of the muffins.

Place into the oven and bake for 30 to 35 minutes.

Remove from the oven and allow to cool in the tins for 10 minutes before turning them out onto a cooling rack.
Notes
Do not defrost the raspberries as they will break up to much.
Don't worry if you have mix left over you can cook what is left after the first batch has cooked, and it will work just as well as the first batch.