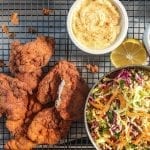 Rate this Recipe! 👇 Just click on the stars below!
Ingredients
800

gm Free-range Chicken breast cut lengthways into schnitzel

600

ml

Buttermilk

Vegetable Oil for deep frying

1

teaspoon

Sea salt

½

teaspoon

Cracked black pepper

300

gm PomPom Paddock Flour

1

teaspoon

Oregano leaves dry

2

teaspoons

Coriander seeds ground

2

teaspoons

Cumin ground

1

teaspoon

Fennel seeds ground

1

teaspoon

Paprika smoked
Method
Place the chicken schnitzel into the buttermilk, toss to coat then cover and refrigerate for at least 30 minutes or even better overnight, but no longer or the chicken can break down too much.

Mix the PomPom Paddock Cauliflower Flour Mix with the salt, pepper, oregano, coriander, cumin, fennel and paprika in a large tray

In a large pot add vegetable oil until the pot is two thirds full.

Place on medium heat until it gets to 180°C. If you don't have a deep-frying thermometer, take a small amount of the flour mix into the hot oil. If it floats to the top quickly then it's ready to cook.

Drain off some of the excess buttermilk from the chicken and then press into the flour mix and coat it in the flour

Cook the chicken in batches for 4 to 6 minutes or until golden brown, lower the heat if it is browning too fast.

Drain on paper towel and keep warm in the oven preheated to 160°C
Notes
For a thicker coating after coating the chicken with the flour mix drop it back in the buttermilk then put it back into the flour mix and coat for a second time.