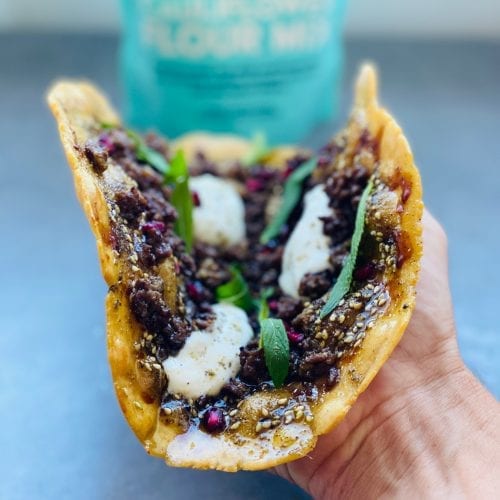 Lamb Zaatar Pizza (Manoushe) (Gluten-Free, Dairy Free)
Considered Lebanese pizza and often eaten for breakfast, how can you not love manoushe! Feel free to swap beef or chicken mince for the lamb mince, the results are delicious, or make the simple manoushe and add a little cheese to melt before it goes into the oven or once it comes out add some leftover roast chicken, avocado or grilled meats
Ingredients
300

g

PomPom Paddock Flour mix

2

tsp

xanthan gum

1

tsp

salt

1.5

tsp

yeast

250-300

ml

water

1

tsp

salt

1

tbsp

olive oil

4

tbsp

za'atar

4

tbsp

olive oil

1

Lebanese cucumber

1

punnet grape tomatoes

Mint

Lemon

Yoghurt & lemon to serve

Extra pomegranate molasses to serve

Pomegranate to serve

optional
LAMB MANOUSHE
2

tbsp

olive oil

1

small brown onion

finely diced

2

clove

garlic

crushed

salt

250

g

lamb mince

2

tbsp

Baharat

1

tsp

ground cumin

Black pepper

2

tbsp

pomegranate molasses
Instructions
For the dough, place the flour into a mixing bowl and add the xanthan, dried yeast, salt and mix to combine. Add the water, using 250ml at first (you may need a little more) and oil to this and mix with your hand to combine. Knead the mix for 5 minutes, it will still be a little sticky, then cover with a tea towel and leave at room temp for 40 minutes. Gently knock the dough back, knead again for 1 minutes, using a little more flour if needed, then tip onto a bench and divide into 6 equal pieces or refrigerate here and store for up to 3 days, wrapped in the fridge.

Mix the za'atar and olive oil together and set aside.

Roll the dough between two sheets of baking paper until approx. 3mm thick. Peel the top layer off and spoon over the za'atar/oil mix and if making the lamb manoushe, spoon some lamb all around.

Remove the pan from the oven carefully then lift the manoushe into the pan, keeping the baking paper on the bottom. Watch as it begins to bubble from the heat of the pan then transfer back to the oven for 2 minutes. Don't overcook, you want it soft.

Serve the simple Manoush with the cucumbers, tomatoes and mint scattered over or if making the lamb version, serve with yoghurt spooned over, some pomegranate, extra pomegranate molasses and lemon.
Lamb Topping (for manoushe)
Place a frying pan over a high heat, add the oil, onion, garlic with a generous pinch of salt and cook for 2 minutes. Add the Baharat, cumin and lamb and keep over the high heat with a little more salt add, cooking until the mince has broken up, browned and is cooked through but not dry. Stir through the pomegranate molasses, adjust the seasoning, cook for 1 minute longer then allow to cool. This can be made up to 3 days ahead.