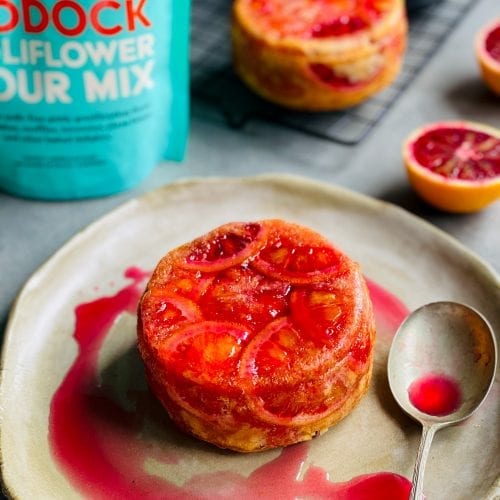 Blood Orange Syrup Cake
This is a stunning & delicious cake to make while blood oranges are in their short season. Best eaten the day it is made however eats well for the next two days. Store at room temp. Serve as is or with some yoghurt, cream or ice-cream. Makes 3 smaller cakes or 1 x 28cm cake
Ingredients
¾

cup

caster sugar

½

cup

water

3

blood orange

sliced into the thinnest rounds you can, 2mm thick

1 ½

cup

PomPom Paddock flour

1 ½

cup

xanthan gum

½

cup

almond meal

2

tsp

baking powder

Pinch

of salt

3

eggs

Zest and juice 2 blood orange

¾

cup

coconut milk

¾

cup

caster sugar

½

cup

coconut oil

¾

cup

coconut or regular milk
Instructions
First make the candied blood orange slices. Combine the sugar and water into a small pan and bring to the boil, dissolving the sugar. Add the blood orange slices and simmer for 10 minutes, until the rind is translucent then using a fork, carefully remove the slices to a plate and reserve the syrup for pouring over the finished cakes.

Line the bottom and sides of 3 smaller cake tins or 1 larger tin with baking paper and then lay the orange slices around the corners so the just come up the sides and then the bottom (this becomes the top of the cake).

Preheat an oven to 180C.

Combine the dry ingredients in a bowl, whisk together the eggs, blood orange juice and zest, coconut milk, sugar, coconut oil and coconut milk and add to the dry ingredients. Mix to just combine then spoon into the cake tin 2/3 full. Bake for 30-35 minutes, until a skewer comes out clean then allow to cool for 5 minutes before unmoulding and turning upside down, so the orange slices are now the top. Spoon over the reserved orange syrup to soak in and serve.