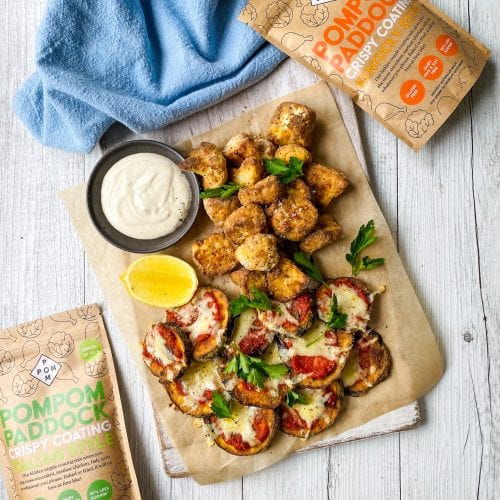 Baked Crumbed Veggies & Garlicky Tahini
Ingredients
1

medium eggplant

sliced into 5mm thick slices

½

medium cauliflower

cut into small florets approx. 3cm

1

pkt PomPom Paddock Italian Coating Mix

1

pkt PomPom Paddock Kentucky Coating Mix

1

cup

preferred milk

¼

cup

olive oil

for cooking

1/3

cup

tahini

1

clove

garlic

finely crushed

Juice 1 lemon

Flake salt

½

cup

Napoli sauce

½

cup

grated cheddar cheese

Lemon & picked flat leaf parsley

to serve
Instructions
For the eggplant, place half the Italian coating mix into a shallow bowl and half the milk into another bowl. Working a few slices at a time, toss the eggplant slices into the coating mix then dip into the milk and the back into the coating mix, pressing the mix on well.

Transfer to a plate and repeat with all the eggplant. You may need a little more coating mix as you go.

Next for the cauliflower, place half the Kentucky coating mix into a clean, shallow bowl and the remaining milk into a clean bowl and go through the same method with the florets.

Tossing the cauliflower in coating mix then into the milk and back into the coating mix, pressing it on well.

Allow the veggies to sit for at least 15 minutes or in the fridge for up to a few hours.

Preheat an oven to 210C. Line 2 baking trays with baking paper and brush 2 tbsp of olive oil across each tray. Place the two veggies on each oiled tray. Then brush them with the remaining oil.

Bake for 15 minutes, then turn them over and bake for approx. another 10 minutes until both are golden. The eggplant may be ready before the cauliflower, just watch it.

Spread a little Napoli sauce over the cooked eggplant slices and top with cheese. Put back in the oven or under a grill for 2-3 minutes to melt.

While the veggies cook, in a small bowl combine the tahini, garlic, lemon with 1/3 cup water. Whisk to a smooth sauce then season with a little salt and pepper. You may need a little more water, depending on your tahini.

Serve the baked veggies with the tahini sauce, extra lemon and little parsley if you want to be fancy.
Notes
Another option is to serve the veggies rice or pasta and a Napoli sauce.