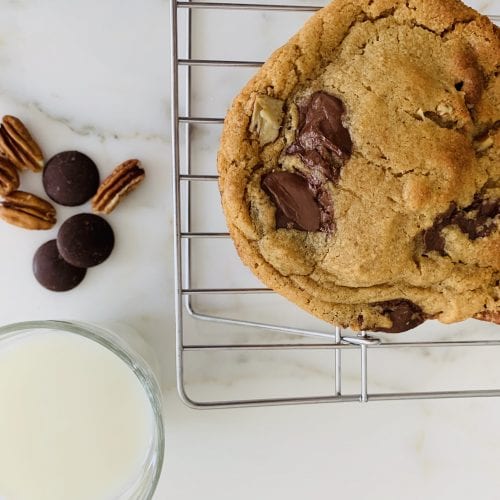 Gluten-Free Chewy Choc Chip & Pecan Cookies
Ingredients
½

cup

sugar

100g

¾

cup

brown sugar

165g, packed

½

teaspoon

salt

½

cup

unsalted butter

115g, melted

1

egg

1½

teaspoons

vanilla extract

1 ¼

cups

PomPom Paddock Flour

155g

½

teaspoon

bicarb soda

¾

cup

dark chocolate chunks

110g

½

cup

roughly chopped pecans or nut of your choice

110g
Instructions
In a large bowl, whisk together the sugars, salt, and butter until a paste forms with no lumps.

Whisk in the egg and vanilla, beating until light ribbons fall off the whisk and remain for a short while before falling back into the mixture.

Sift in the PomPom Paddock Cauliflower Flour Mix and bicarb soda, then fold the mixture with a spatula.

Fold in the chocolate chunks and pecans, then chill the dough for at least 30 minutes. For a more intense toffee-like flavour and deeper colour, chill the dough overnight. The longer the dough rests, the more complex its flavour will be.

Preheat oven to 180°C. Line a baking sheet with baking paper.

Scoop the dough with an ice-cream scoop onto the baking paper, leaving at least 10 cm of space between cookies and 5 cm of space from the edges of the pan so that the cookies can spread evenly.

Bake for 12-15 minutes, or until the edges have started to barely brown.

Cool completely on the tray before serving.

Enjoy!