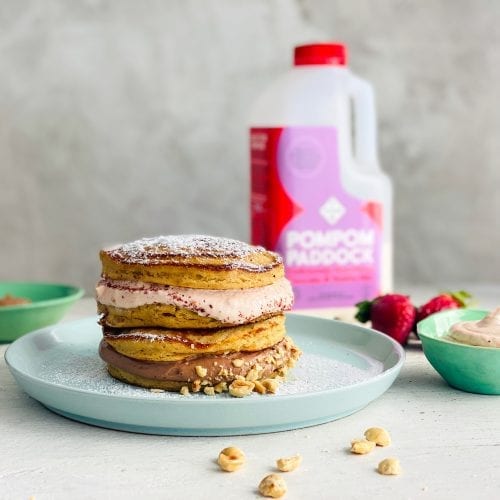 Easy-Peasy Cheesecake Pancakes
These fun pancakes are sandwiched with a cheesecake filling. There's are two options here, a strawberry and a Nutella both can be made in advance and stored in the fridge for a day. The pancakes can also be made and kept in an airtight container at room temp, ready to fill.
Ingredients
1

punnet strawberries roughly chopped.

¼

cup

maple syrup

1

PPP pancake mix

1

tsp

baking powder

1 ½

cup

preferred milk

1

egg

1

tbsp

oil

2

tbsp

butter or oil

250

g

cream cheese

250

g

double cream

Zest 1 orange

1/3

cup

Nutella

¼

cup

toasted hazelnuts

crushed

1

tsp

sumac

optional
Instructions
Combine the strawberries with the maple syrup and cook over a medium/high heat until they are soft and juicy then crush with a fork and set aside in the fridge to chill.

Place the baking powder into the dry pancake mix and give it a shake to mix then add the milk, egg and oil and shake well to mix.

Use a non-stick pan and the butter or oil to cook 8 pancakes approx. 8cm diameter. Then allow to cool on a plate.

Place the cream cheese and cream into a mixer with whisk attachment. Add the orange zest and whip to stiff peaks. Add 1/3 cup strawberry compote to half the mix and Nutella to the other half and mix both separately. Place in the fridge to set for an hour then spoon into piping bags and pipe the Nutella over 2 pancakes and top with another pancake and pipe the strawberry over another 2 pancakes and top with the last two pancakes.

Press some crushed hazelnuts onto the Nutella cream and sprinkle some sumac onto the strawberry cream. Dust them all with some icing sugar and either serve straight away or refrigerate for an hour or so.