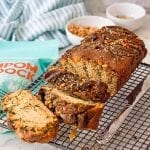 Rate this Recipe! 👇 Just click on the stars below!
Ingredients
For the Dough
200

ml

lukewarm soymilk

1

teaspoon

raw brown sugar

1

tablespoon

dry yeast

350

g

cauliflower flour mix

50

g

melted dairy-free butter

pinch

of salt
For the Spinach Pesto
4

cups

baby spinach

2

tablespoons

pine nuts

1

cup

fresh basil

1

tablespoon

olive oil

1

tablespoon

lemon juice

salt and pepper

to taste

sesame seeds and pine nuts

for decorating
Method
Make the pesto. Add all the ingredients into a blender and process until smooth. Make the dough. In a jar combine warm milk with yeast and sugar. Set aside for 10 minutes to activate the yeast.

Place flour in a large mixing bowl. Make a well in the centre, then pour in the yeast mixture, and melted butter, add pinch of salt. Slowly combine, gradually bringing more of the flour into the centre until dough forms. Knead for 10 minutes into a ball form. If the dough is too crumbly add 1 tablespoon of olive oil.

Roll out the dough into large rectangle about 5 mm thick. Spread a thin layer of pesto evenly over the dough. Roll the dough into a long tight roll. Cut it in half lengthwise. Braid the two long pieces so that the pesto layers are facing upwards. Place in a baking tin lined with parchment paper. Cover with a plastic wrap and set aside to rise for 1.5 hours.

Preheat oven to 180°C. Sprinkle babka with pine nuts and sesame seeds and bake for 50-60 minutes until golden brown and a toothpick inserted into the centre comes out clean. Cool for 10 minutes before removing from the baking tin. Leave on a wire rack to cool for 30 minutes before slicing and serving. Enjoy.