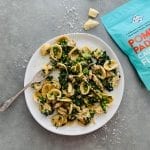 Hand making this rustic pasta is so simple, fun and very satisfying. Rough edges are formed on the pasta as you gently press and drag it with the knife so the sauce sticks to it. The dough can be made up to 3 days ahead and stored in the fridge well wrapped. If you want it vegetarian, you could replace the sausage with mushroom or broccoli for a delicious result as well.
Ingredients
Pasta
2

cups

PomPom Paddock Flour + extra for rolling

1 ¼

tsp

xanthan gum

½

tsp

salt

2

eggs

1

tbsp

olive oil

1/3

cup

water
Sauce
¼

cup

olive oil

1

small brown onion

Finely diced

2

clove

garlic

Roughly chopped

Salt

Black pepper

4

good quality chicken & herb sausages

½

bunch cavolo Nero

Sliced into 2cm wide pieces

1

cup

frozen peas

½

cup

flat parsley

Rough chopped

Parmesan to serve
Method
For the pasta sift the flour, xanthan gum and salt into a bowl.

Add the eggs, olive oil and gradually add the water as you mix it all together by hand. Knead for 2 minutes, the dough should be soft and smooth. If too wet, add a little more flour mix and knead through. Wrap the dough in wax wraps or foil and place in the fridge to rest for at least an hour.

When ready to roll, flour a bench and cut the dough into 4-6 pieces and roll each into long strips or ropes approx. 1cm in diameter.

Use a generous amount of flour over and under the dough strips as you cut a 1 cm piece with a butter knife, gently pressing down on the dough with the flat front end of the knife and dragging the dough towards yourself which should leave you with a rough, flat, small pasta piece approx. 2.5-3cm in size. Repeat down each strip of rolled dough and place the finished pasta onto a lightly floured plate and set aside.

Bring a large pot of water to the boil and add a generous handful of salt.

In a large frying pan add the oil, onion and salt and cook over a medium/high heat for approx. 2 minutes. Squeeze the sausage mince from the casing and into the pan and break up into smaller, rough pieces and continue to cook to colour the sausage pieces. Add the cavolo Nero to the pan and sauté to just wilt. Add the peas to the pan and toss through.

At the same time, add the pasta to the boiling water and simmer for 2 minutes then drain and add to the frying pan along with ½ a cup of water, the parsley and a good handful of grated parmesan. Toss well adjust the seasoning and serve straight away.