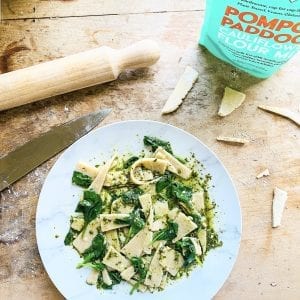 Cauliflower Pasta with Baby Spinach, Pesto & Lemon (Gluten-Free, Vegetarian)
Ingredients
2

cups

PomPom Paddock Flour + 1/4 cup for rolling pasta

1/4

tsp

salt

2/3

cup

water

2

tbsp

olive oil

200

g

baby spinach leaves

100

g

pesto

vegan if desired

2

tbsp

olive oil

juice 1 lemon

salt

black pepper
Instructions
Place the 2 cups of flour and salt into a bowl, mix and make a well in the centre. Combine the water and oil together and pour it into the well made in the flour

Using a fork or your fingers, gradually mix the flour into the water until it all comes together then gentry knead the pasta dough for 2-3 minutes.

Wrap the kneaded dough in a clean cloth and let rest in the fridge for at least 2 hours or overnight.

Bring a large pot of water to the boil and season lightly with salt.

Using a rolling pin, roll the dough into a rough rectangle, approx. 3mm thick, on a floured bench then using a knife, cut it into small short pieces approx. 5cm long and 1.5cm wide - these can be any shape you want, triangles or rectangles, have some fun with it.

Carefully transfer the cut pasta to a tray lined with baking paper. transfer the pasta into the boiling water, using the baking paper to help slide it into the water, turn down the heat and cook for 2 minutes then drain the pasta through a sieve with the baby spinach in to, reserving 1/4 cup cooking water.

Gently toss the pasta, wilted spinach & cooking water with the pesto, olive oil and lemon. Season and serve straight away.